StickyNote™ - Add a Sticky Note to Your Home Screen - Version 1.0.9
StickyNote™ allows you to put a customized "Sticky Note" right on the home screen of your BlackBerry®, so that every time you glance at your BlackBerry®, you will be reminded of important items.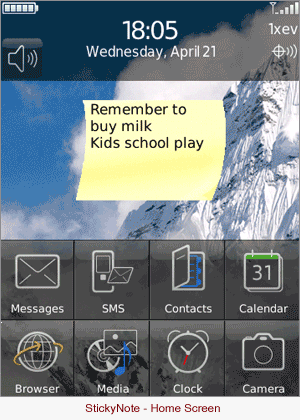 Adjust the location, size, font, and appearance of the note!
Several fun and colorful StickyNote backgrounds to choose from!
Quick and easy to hide or change the StickyNote!
Purchasing StickyNote...
StickyNote is also available from BlackBerry App World under the "Productivity/Organization" category
Note: You must have BlackBerry operating system 4.7, 5.0, or 6.0 to use StickyNote.
Utility Information...
Version 1.0.9
1MB
Updated 09/15/2010
Requirements...
BlackBerry Smartphone OS 4.7, 5.0, or 6.0
More Information...

Copyright 2012 CellAvant, Inc. All Rights Reserved.